HitaPack Equipment
ZMG-A series automatic paper pulp moulding product line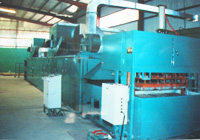 ZMG-A series automatic paper pulp moulding product line applies ZMG series coordinates type forming machine ,which moves up and down with automatic shower to keep the machine clean ;and the transfer mould move forward and backward ,which can convey the product to the net strip for the drier .The drier can apply to several kinds of heat ways such as gas , diesel oil,steam,heat transfer oil,coal and so on according to the demand of the customer .The features of this high quality rotary pulp moulding machine consist of simple structure , esay operation and maintenance ,low investment cost ,larger application range and so forth .
Model
ZMG-A2
ZMG-A3
ZMG-A4
ZMG-2A3
ZMG-2A4
Egg tray pcs(pcs/hr.)
600
800
1000
1500
2000
Max. output(kg/hr.)
70
90
120
180
200
The whole product line power(kwh)
58
66
78
116
138
Electricity cost(kwh)
45
52
62
87
105
Diesel oil cost(kg/hr.)
15
21
25
32
38
Gas cost(cube/hr.)
19
27
32
42
49
Steam cost(kg/hr.)
320
450
520
580
800
Water cost(litre /hr.)
300
400
500
700
800
staff
3
3
3
5
5
Forming machinemovement periods
Egg tray:10-11 sec.
Egg tray:12-13 sec.
Egg tray:13-14 sec.
Egg tray:12-13 sec.
Egg tray:13-14 sec.
other:10-30sec. adjustable
other:10-30sec. adjustable
other:12-30sec. adjustable
other:11-30sec. adjustable
other:12-30sec. adjustable
Forming machine board size(mm)
800x500
1200x500
1600x500
1200x500x2
1600x500x2
Mould
Forming mould 2 pcs
Forming mould 3 pcs
Forming mould 4 pcs
Forming mould 6 pcs
Forming mould 8 pcs
Transfer mould2 pcs
Transfer mould3 pcs
Transfer mould4 pcs
Transfer mould6 pcs
Transfer mould8 pcs
Operation
Control by PLC computer,run automatically
Common explaination
1、In the above form,the parameter of the cost of diesel oil,gas ,steam are corresponding to different heat sources,the

others

are omitted .
2、The pieces of the egg tray in the form are just for reference,different product,different quantity and weight.